Rich Living series: Climate Change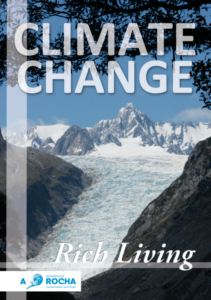 The first of the Rich Living series, Climate Change is available now, with four other booklets (Water, Food, Transportation, Stuff & Waste) soon to follow.
There is overwhelming evidence that the existing Western lifestyle is unsustainable. Whether conscious of it or not, our consumption habits (water-use, what we eat, how we travel and what we purchase and discard) have a tremendous impact on the well-being of our human and non-human neighbours, locally and globally. However, rather than believing that nothing can change, Christians are to be agents of hope. A Rocha believes that Christian faith communities have the potential to offer a glimpse of what true 'rich living' entails and have partnered with Tear Fund NZ to create the Rich Living resources. Incorporating information, Scripture readings, discussion questions, and practical activities, the Rich Living series is designed for small groups. So, find others from your congregation, youth group, neighbourhood, and join us in exploring how together we can make sustainability integral to our lives of faith.
Please click here to order free copies of the Climate Change booklet or to download a PDF version.