Pursuing Peace – Restoring Karioi available now!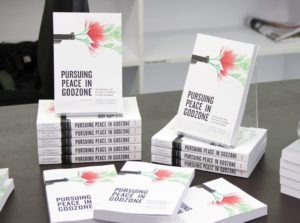 A Rocha's story about the Karioi Project will become familiar to many New Zealand senior school students in the coming years due to the release of a new book.
Pursuing Peace in Godzone: Christianity and the Peace Tradition in New Zealand (VUP, 2018) tells stories about a range of Christian peace-making ventures within Aotearoa New Zealand since the Second World War. As well as gripping, and at times, amusing narratives about attention-grabbing protests against nuclear weapons, apartheid and war, there are also moving accounts of peace-making activities within churches, communities and with the natural environment. The story of the Karioi Project is told in one of the chapters and is accompanied by a short video specifically designed as a resource for schools. The book and video resources have already been picked up by Presbyterian and Anglican schools around the country and is selling well. We're hoping that all who read the book will be challenged to reflect deeper on the way in which conservation and care of creation is linked to the larger Christian vision of peace-making.
We've also recently updated our A Rocha Aotearoa New Zealand resources page on our website. If you're looking for other resources to encourage, inspire and deepen your thinking around conservation and hope, check it out. (For a wider search of A Rocha International's resources, visit the A Rocha International resources page).