Ecology and Hope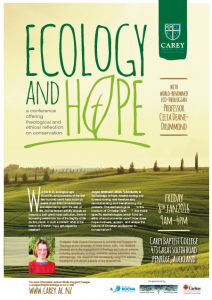 How would you spend a Friday in the middle of summer holidays?  At the beach?  Walking in the hills?  Lazing at home with book?  Attending a theology conference?!!
That close to 80 participants spent a summer day reflecting on how Christian hope motivates and shapes conservation practice is testimony to the strong interest in the topic.  The 'Ecology and Hope' conference was an ecumenical affair – organised by A Rocha, in partnership with Catholic organisation Caritas and Nga Whaea Atawhai o Aotearoa/Sisters of Mercy, and hosted at Carey Baptist College in Auckland.  Speakers engaged with the themes of ecology and hope from biblical, theological, historical and philosophical perspectives.  Professor Celia Deane-Drummond spoke on understanding our place as humanity in the world and reflected upon the Pope's encyclical Laudato Si.  Delegates Tim & Lindy Jacomb, newly appointed pastors at Karori Baptist in Wellington said: "It was a fascinating and challenging conference with a breadth of engagement both theological, philosophical and practical.  As we head into pastoral ministry in Wellington, we are looking forward to weaving these threads into our preaching and teaching ministries."
Papers from the conference have been published as an edited book called "Creation and Hope". For more information, please click here.